Capital Knee Troubleshooting
Although easy to use and setup, the Capital hydraulic knee works slightly different than other hydraulic knees on the market. Please refer to the below resources if you are having issue(s) with the knee. We also invite you to give our Customer Service team a call for any issues at 1-800-728-7950 or email at [email protected].
Video: Capital Knee Setup and Adjustments
Reference: Capital Knee Alignment Card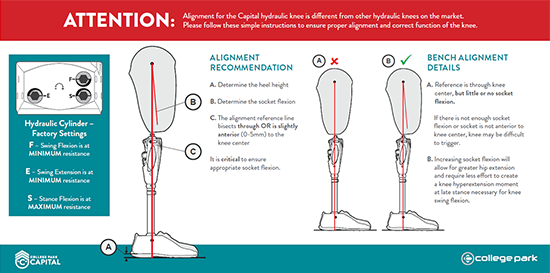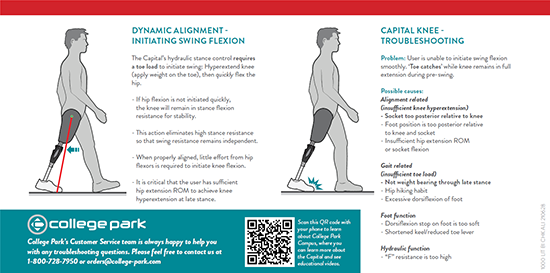 Issue: Capital Knee is not flexing or extending
Does the knee present any of these issues?

- Hydraulic oil leaks (visible leaks, "air" noises, loss of hydraulic function)
- Adjustment valve issues (stripped adjuster)
- Mode selector switch issues (can't lock/unlock knee)
Please call
1-800-728-7950 and we will assist you further
Check alignment

- Socket too posterior relative to knee
- Foot position is too posterior relative to knee and socket
- Insufficient hip extension ROM or socket flexion
Learn more about alignment

Assess gait (insufficient toe load)

- Not weight bearing through late stance
- Hip hiking habit
- Excessive dorsiflexion of foot
Learn more about how to initiate swing flexion with the Capital knee

Assess foot function

- Dorsiflexion stop on foot is too soft
- Shortened keel/reduced toe lever

Assess hydraulic function

- "F" resistance is too high
If this has not solved the issue,
please call 1-800-728-7950 and we will
assist you further

Alignment Recommendation

A. Determine the heel height
B. Determine the socket flexion
C. The alignment reference line bisects through OR is slightly anterior (0-5mm) to the knee center
Bench Alignment
A. Reference is through knee center, but little or no socket flexion.If there is not enough socket flexion or socket is not anterior to knee center, knee may be difficult to trigger.

B. Increasing socket flexion will allow for greater hip extension and require less effort to create a knee hyperextension moment at late stance necessary for knee swing flexion.
Dynamic Alignment - Initiating Swing Flexion
The Capital's hydraulic stance control requires a toe load to initiate swing: Hyperextend knee (apply weight on the toe), then quickly flex the hip.
If hip flexion is not initiated quickly, the knee will remain in stance flexion resistance for stability.
This action eliminates high stance resistance so that swing resistance remains independent.
When properly aligned, little effort from hip flexors is required to initiate knee flexion.
It is critical that the user has sufficient hip extension ROM to achieve knee hyperextension at late stance.