It's 4 a.m. in Beirut, Lebanon. I lay in bed wracking my brain to find a solution for my patient. As a prosthetist from the United States, I'm visiting a rehabilitation center to teach and assist an enthusiastic, local team of technicians, prosthetists, and physical therapists. We need to get creative to fit our traumatic transhumeral above-elbow patient. Although I brought some harnessing materials, there's no sewing machine or upper-limb componentry available. What can I use? Who can I call? …That's it! The safety strap on my luggage could be used to create a better cross-chest suspension harness with a quick-release buckle. It was a little dirty, but I was thrilled that it worked!
While there are challenges and differences with international prosthetic care, there are some universal similarities. No matter where I've gone, I see compassion, empathy, sound fundamental prosthetic principals, and the powerful desire to become whole again. These elements make the challenges and barriers of international prosthetic care well worth facing.
Flexibility Is Key
Travel in general requires a certain level of flexibility. However, for international prosthetic care, it's imperative. You must have a willingness to accept, embrace, and work in partnership within the visiting community. During the last three years, I've visited four countries. The teams I've had the pleasure of working with are open and willing to share ideas and techniques with an inherent sense of support for the patient. It's all about the successful outcome for the end-user, which is incredibly rewarding. At College Park, we value hands-on education and global outreach. The gracious hosts I encounter in different countries make that mission easier to facilitate.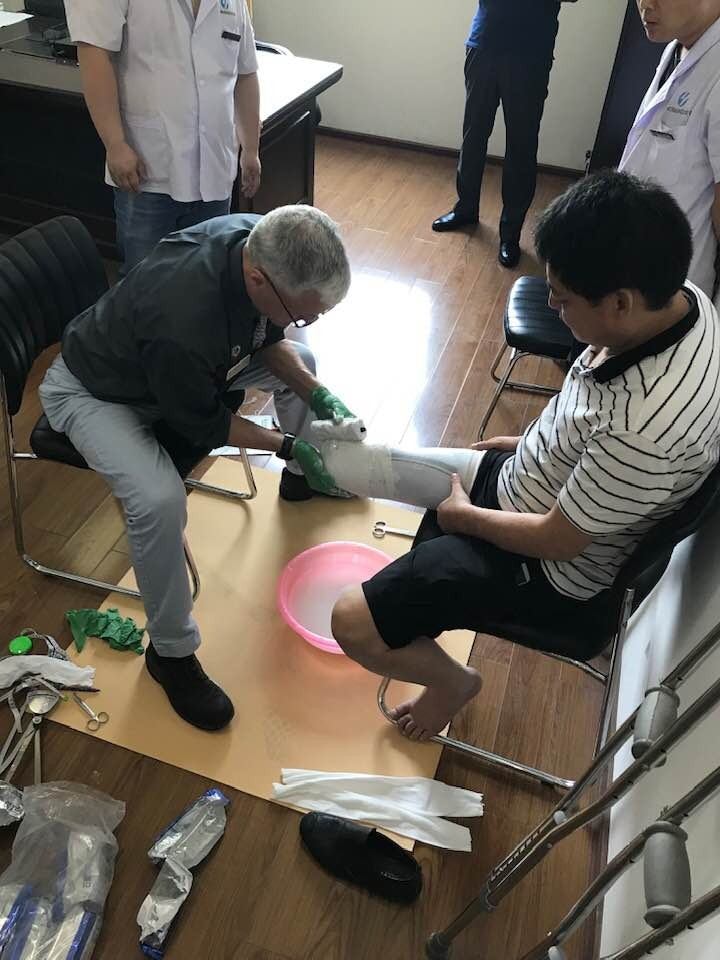 Going with the flow can be challenging and uncomfortable, but it also fosters breakthroughs and creative solutions. During a trip to Riyadh, Saudi Arabia, we had a classroom of observing prosthetists and therapists. I thought I would be on the sidelines demonstrating, teaching, and observing how College Park's line of feet would work with their prosthetic fittings. However, I found myself modifying a plaster cast, pulling a test socket, and fabricating a definitive socket for an adult patient with a below-knee amputation. It was not what I thought the day would involve, but so much of international prosthetic care is adapting to the clinical, technical, and cultural environment. During that same trip, I also learned the importance of different religious practices and entering a Mosque barefoot, as to better understand the team I was working with. Oh, as well as blackouts and sandstorms.
Like the instance with the luggage strap, there are many hurdles when it comes to materials, tools, and resources with global prosthetic care. You can only travel with so much, and you usually don't know exactly what the clinic has on-hand until you get there. Immersing yourself in the prosthetic rehabilitation process means embracing the resources and processes in the region you're visiting.
Communication Barriers and Breakthroughs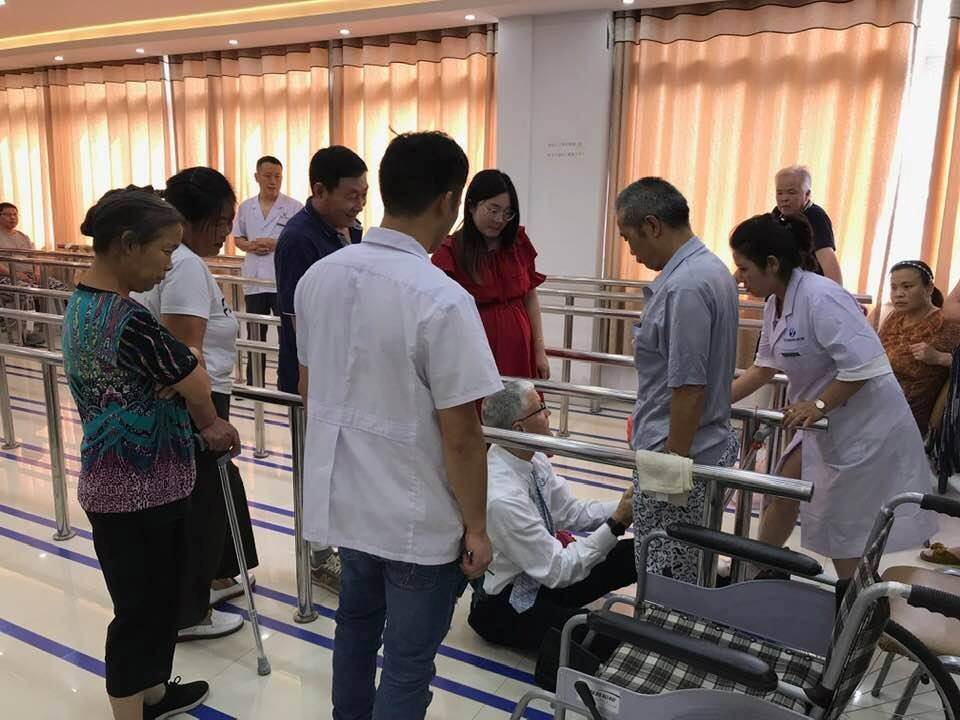 Understanding cultural differences alone can help with providing the best possible patient care. In China and Lebanon, the rehabilitation model is centered on community and family. People living with limb loss bring their family members to prosthetic centers where they live in common areas together sharing their experience and supporting each other. It's remarkable to witness the strength and resilience in these communities. They support each other and share their daily challenges, which helps our team find a better solution. Seeing a patient through the process is one of the greatest honors.
Language barriers pose quite a challenge when fitting patients. Although many visiting medical professionals are provided with a translator, what people sometimes overlook is whether or not the translator has a medical background or a depth in prosthetic knowledge. To overcome this, we rely on nonverbal communication, pictures, diagrams, and google translate.
In Riyadh, work stopped for prayer time. I found myself settling into this peaceful rhythm. In China, it was a comfortable lunch routine with the staff that I enjoyed. Here in the states, I'm back in the fast-paced, hectic flow of daily work life. It was interesting to be immersed in the day-to-day culture of each country I've visited.
Tips for the Journey
When I returned home from a trip to Saudi Arabia, Lebanon, and China, one of my colleagues asked me an interesting question. He said, "Would this international experience have been more beneficial earlier in your career?" My answer is that it would have been more experimental, but I would not have had the depth of experience to offer. The choices, tools, skills, medical knowledge, and ability to share in empathy are so important. It truly is an honor to participate in an individual's regaining of mobility, freedom, independence, and confidence.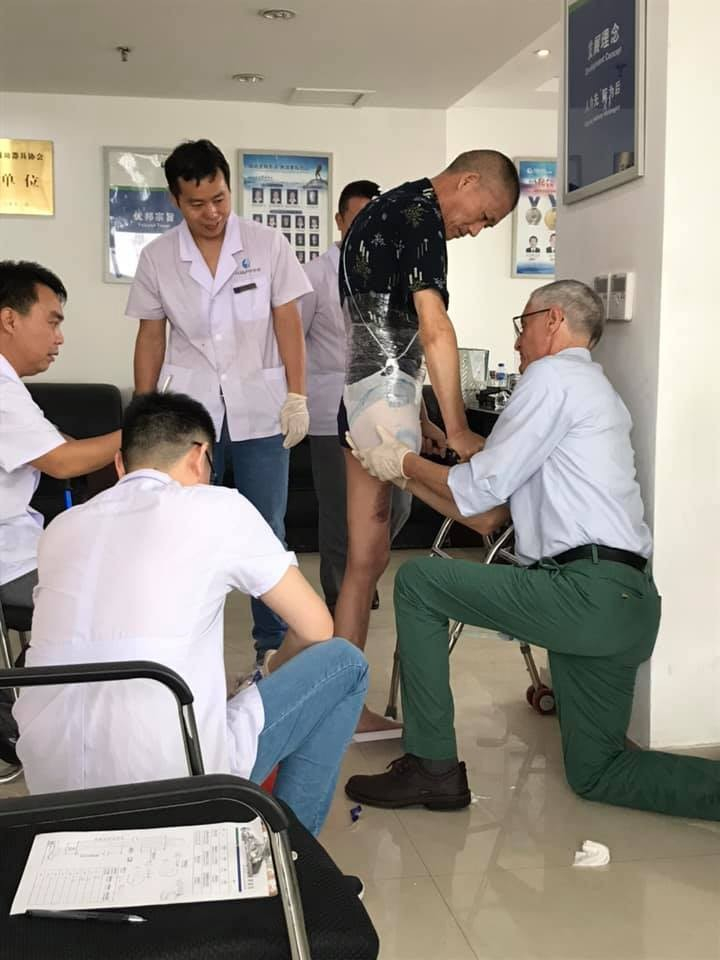 What I love most about these adventures is that I've realized the universal similarities in patient care. There are factors that surpass and disregard language barriers. Regardless of where you are, people in this field often have an innate desire to help. They want to see their patient succeed. The common denominator is improving the quality of life for an individual with limb loss.
I'd like to share a few travel tips for those of you interested in international prosthetic care. Above all else, remember to be flexible.
Sleep is overrated.
Download Google translate and a secondary translator app just in case.
Always have a little cash on-hand.
Prepare—do your research on the country/community you're visiting.
Appreciate the cultural and technical differences.
Learn as much as you can ahead of time about the region's patient populations, reimbursement, and healthcare model.
Be aware of your expressions and body language, because much of your communication may be nonverbal.
Depending where you go, bring a voltage convertor/wall adaptor.
Be careful which prosthetic materials you bring. Research what is allowed through customs.
Combine your expertise with an openness to new techniques and ideas.
Where to Next?
There is a certain excitement and anticipation that happens as a prosthetist when you evaluate a new individual with limb loss. Adding a new location and team into the scenario makes for an incredible experience. I've found these experiences to be eye-opening, difficult, rewarding, and so worthwhile. My next stop is Moscow, Russia! An opportunity to teach and work with prosthetists to fit shoulder disarticulation prostheses. It's an exciting time in upper-limb prosthetics! We'll be sharing our new Espire Elbow Pro with Axis electric-lock shoulder. I can't wait to meet with my Russian colleagues and design, fabricate and fit this advanced technology.
Posted in: