My career as a prosthetist encompasses a mere sliver of time in the evolution of prosthetics. However, it is the last few decades that have seen pioneering, influential advances for individuals with limb loss and limb differences. In upper-limb prosthetics specifically, the past decade is extremely pivotal. Material science, prosthetic innovation, and medical treatment approaches are opening unimaginable doors that benefit clinicians and end-users. If we take advantage of new, innovative products, like College Park Industries' Espire Elbow series, address clinical challenges, and configure new control options for patients, the opportunities are bountiful. Every patient is different, and what College Park has created is a wide range of choices to support "dialing-in" the right prosthetic blueprint for end-users.
Espire Family of Elbows
The new Espire Elbow series is designed with a focus on both form and function. It's available in five functional models, many color choices, two sizes, as well as left and right options. The five models range from an economical, mechanical elbow to a technologically advanced, myoelectric, powered elbow. Each model offers a sleek, anatomical look. This comprehensive family provides a complete supportive choice in above-elbow, shoulder, and interscapular thoracic amputation levels. They also play well with other manufactures' components, especially with the engineering challenges of input control options and output device management. The entire Espire family shares the same basic footprint with each of the five elbow models but offers differences in functions, features, costs, and reimbursements options.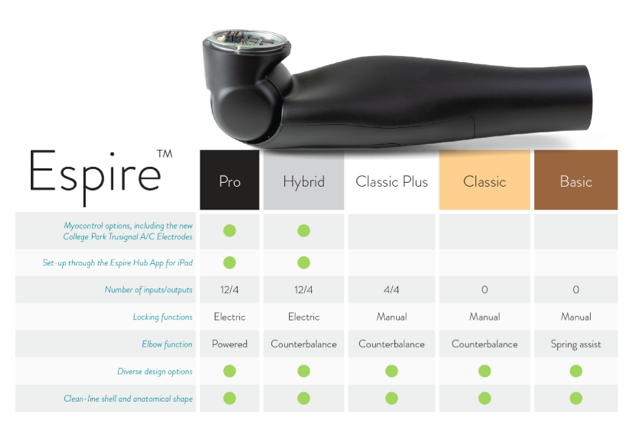 Here is a quick glance at the five Espire Elbow models: Pro, Hybrid, Classic Plus, Classic, Basic
Complex Clinical Challenges
Despite considerable advances in upper-limb prosthetic technology, rejection rates remain relatively high for successful prosthetic outcomes. The high statistical level of abandonment correlates with low levels of satisfaction for comfort, appearance, and functionality. The loss of an arm significantly affects an individual's autonomy physically and socially, as well as the capability of performing daily living, working, and social activities.
There's no doubt that clinical assessment is a complex process. Medicare established K-level guidelines to indicate the potential benefit of lower-limb prosthetic devices. However, the paradigm in upper-limb prosthetics is choreographing the right choice throughout the lifetime of a person with limb loss. It must be individualized, unique, positive, and supportive both in function and social acceptance. It must produce the highest envelope of control through the interface design, suspension, control, and terminal device.
The diagram below shows Upper-limb Clinical Paths, as stated by Stevens and Highsmith, representing a comprehensive model for prosthetic choices. Successful outcomes depend on the flexibility of features, functions, and each individual's social and physical needs. The Espire Elbow family embraces the need and compliments the entire spectrum of clinical paths: Oppositional (OP), Body Powered (BP), External Powered (EP), Hybrid (H), and Activity Specific (AS).[1]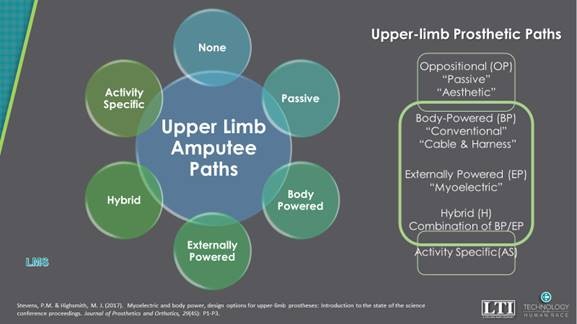 Think about the challenge of replicating the function and acceptance of a human arm. In order to understand and overcome barriers to successful clinical outcomes, we must rely on aesthetics as well as function. When developing the Espire Elbow series, College Park invested in a journey and collaboration to provide people with an individualized, anatomically correct arm that blends technology with humanity to appeal to the wide range of user demographics. Take a look at the industrial design process for the Espire:
It's important to provide support and see a process through to the end. As a team, College Park is always refining its resources and tools to assist in quality upper-limb management. With the implementation of an LMS (learning management system) or online learning modules, prosthetists can receive support to augment and navigate the prosthetic prescription process and selection. Fully invested in a partnership for successful outcomes, College Park offers quality product technical manuals, accessible and knowledgeable customer service personnel, a loaner and trial program, engineering support, and technical support.
A Patient's Future in Prosthetics
Technology changes every moment. The trick is to create products that can adapt or stand the test of time. When designing the Espire Elbow, College Park's engineering team considered the future of upper-limb prosthetics and advancements in emerging technologies. The goal was to improve control, sensation, and function for patients, while providing desired aesthetic and contemporary engineering of inputs, battery, IOS Bluetooth software, power, speed, and control options.
One of the most significant advances for people living with upper-limb loss is Targeted Muscle Reinnervation (TMR). This is a surgical procedure used to improve the control of upper-limb prostheses. Reinnervated residual nerves serve as biological amplifiers allowing for more intuitive simultaneous control of advanced prosthetic arms, like the new Espire Pro and Espire Hybrid, with it's Controller Area Network (CAN) Bus microprocessor designed to allow devices and controllers to communicate with each other.
Osseointegration (OI) is a procedure that allows for the direct skeletal attachment of prosthetic limbs. It is rapidly evolving worldwide with significant potential benefit for people with upper-limb loss. The Espire Pro's powerful motor, long-lasting battery, and positive locking gear box allow a large envelope of prosthetic arm function and control for the OI community.
Another factor College Park considered is Pattern Recognition. This is non-invasive, unique, and intuitive control of advanced arms like the new Espire Pro and Espire Hybrid. Coordinated muscle signals produce patterns of biometric information and these decoded signals offer proportional, multifunctional control of a prosthesis.
Regenerative Peripheral Nerve Interfaces (RPNI's) are biological constructs that amplify neural signals. They have promise for use with advanced prosthetic control like the Espire Elbow system. Neural interface can provide real-time, long-term, contamination-free signal fidelity for functional control.
The Bigger Picture
I believe that a prosthesis that offers a balanced blend of technology and humanity is crucial to a successful outcome. It's probably obvious that I'm excited about the launch of the Espire Elbow series, but it's about so much more than that. This is a new era in motion. This field is rapidly changing for the better, and I'm thankful to be part of a team that remembers the real reason behind it all: the people. When people have access to products that can help them live their life with ease, they get to go out and enjoy the journey, making this world a better place in their own unique way.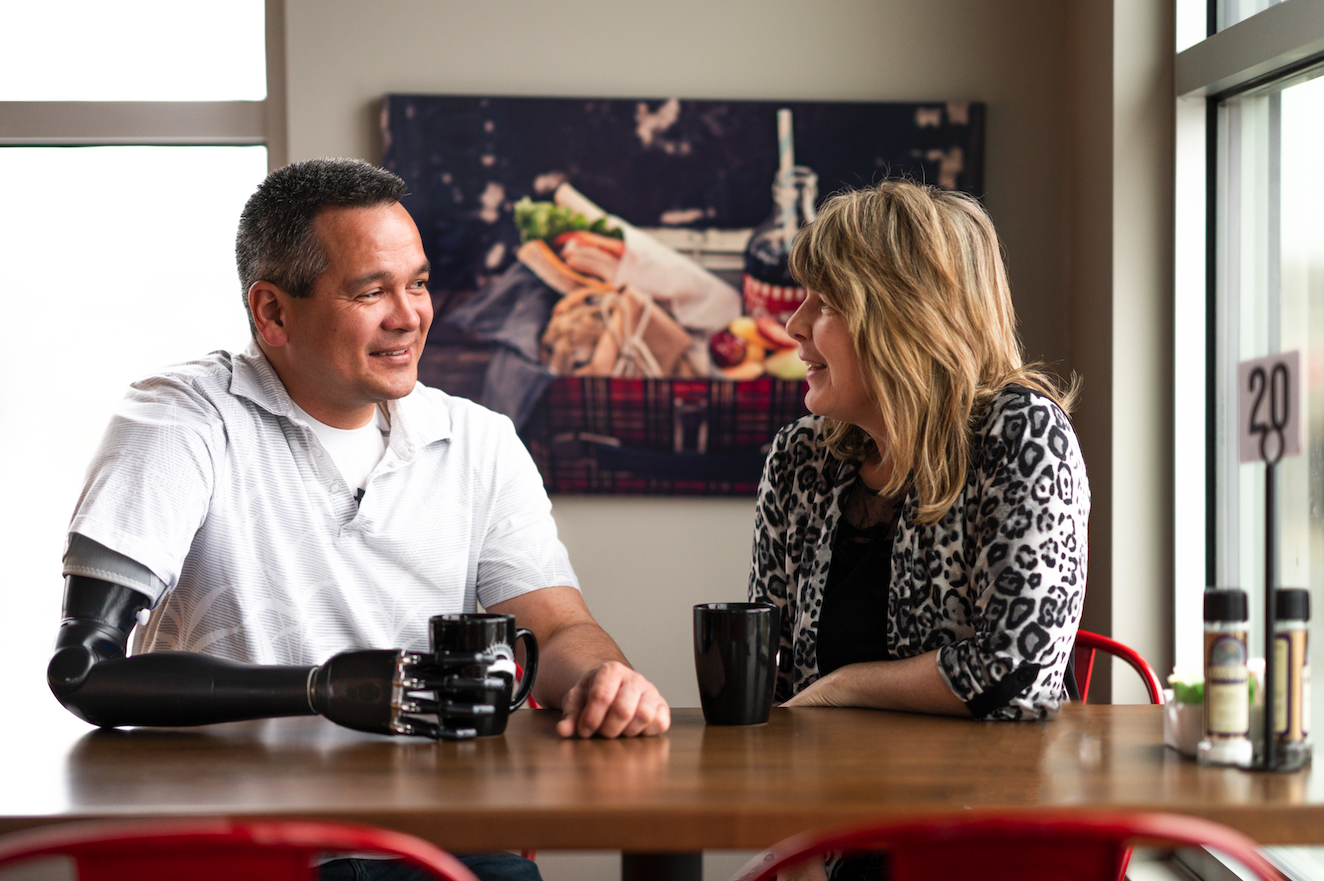 [1] (Stevens, P.M. & Highsmith, M. J. (2017). Myoelectric and body power, design options for upper-limb prostheses: Introduction to the state of the science conference proceedings. Journal of Prosthetics and Orthotics, 29(4S): P1-P3.)